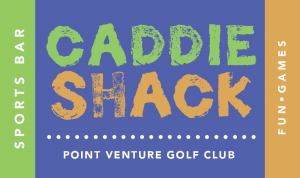 Caddie Shack will be Closed until May 18th Due to the Coronavirus
                 Bakers's BBQ & Burgers will remain open Thurs-Sun 2-7pm 

Caddie Shack Music Spotlight – Upcoming Live Music
Music Spotlight May-2020 revised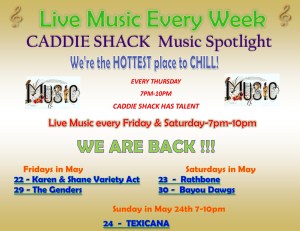 Caddie Shack's Got Talent – Coming in June!
12 Bands competing for $3,000 CASH! 3 bands will play for 1 hour each Thursday in June. Shows will be streaming live and the fans will vote on bands on a scale of 1 to 10 – Can also vote online. The 4 bands with the lowest score will be eliminated after June. In July, 2 bands play each Thursday for 1.5  hours and 4 more bands eliminated. Final 4 bands in August with 2 bands playing 1.5 hours the first Thursday, and the other 2 bands playing for 1.5 hours the second Thursday. The final 2 bands play for 1.5 hours each on Thursday, August 20th for the $3,000 CASH!
Weekly Activities at The Caddie Shack Sports Bar & Baker's BBQ & Burgers     
        Monday – Thursday = Happy Hour from 4-7pm – $1 off all drinks! 


        Monday – Thursday =  Fortune Wheel Spin EVERY Hour 4-10pm!
Mondays  =      7-11pm Bar Olympics – Pool, Darts, Shuffleboard, Golden Tee                             Tourneys – Double Elimination for Caddie Shack Gift Cards
                           $1.95 ANY BEER – Domestic, Import, Can, Bottle, or Draft!
Tuesdays  =      5-8pm Taco Tuesday &  7-11pm Texas Hold 'Em League
                           $3 Tacos, $2.50 Domestic Cans/Bottles
Wednesdays =  5-8pm Wingy Wednesdays & 8-10pm Trivia Night
                            Eight is Great! $8 Wings & $8 Domestic Pitchers 
Thursdays =      5-8pm Throwback Thursdays – Like Momma Used to Cook
                            & 7-11pm Caddie Shack's Got Talent (12 Bands for $3,000) 
                            $10 Home Cooked Meal & $3.40 Import Cans/Bottles
Fridays =           5-8pm Steak Night & 7-10pm Live Entertainment
Saturdays =      ALL Day – $10 Burger, Fries, and a Beer
                           7-10pm Live Entertainment
Sundays =         ALL Day – $4.99 Bloody Mary's, Mimosas, and Margaritas