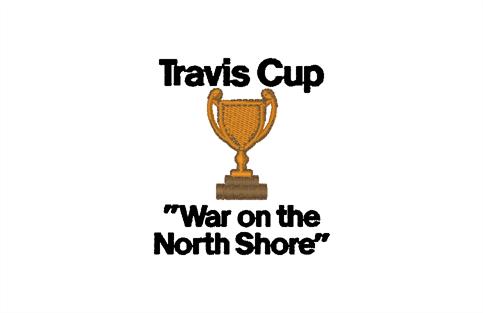 Point Venture vs. Lago Vista Golf Course
Name: Travis Cup
Nickname: "War on the North Shore"
Captains: Point Venture – Justin Orbin Lago Vista – Chris Godwin
Goal: Develop a friendly and competitive rivalry between the 2 clubs
Dates:   2023 at Point Venture Golf Club = September 29th – October 1st, 2023
Location: Point Venture Golf Club (Odd Years) Lago Vista (Even Years)
Times:
Fri, September 29th – 9:00am   – Shotgun –  Practice Round 
                                          2:00pm  – Optional Shootout
                                         6:00pm  – Captain's Dinner at Captain Pete's Boathouse
                                         7:00pm   –  Live Music at the Caddie Shack
Sat, September 30th– 9:00am – T-Times – 9 Hole Matches – 1 low Net (90%)
                                        12:00pm – T-Times – 9 Hole Matches – Alt Shot (50%)
                                         2:00pm – Lunch
                                         3:00pm – Optional Scramble
                                         7:00pm –  Live Music at the Caddie Shack
Sun, October 1st    –    12:15pm – Team Pictures
                                        12:30pm – T-Times – 18 Hole Individual Matches (100%)
                                         6:00pm – Awards Ceremony & Party
Cost: $199 per player
Cost includes: 5 Rounds of golf with cart and range ball & Captain's dinner,
                           2 Team Shirts and a Team Hat, Saturday Lunch, Sunday afternoon
                           – Trophy Presentation and Beverages, Permanent Crystal Trophy to winning team
Eligibility: Open to any male over the age of 25
Team Make-Up: Point Venture – Top 10 Men on the yearly points list + Low Gross and Low Net from the 2023 Club Championship not already on the team
  Lago Vista – MGA Point Leaders, Qualifying tournament and Captain's Picks
Points: Each match is worth 1 point for a win and ½ point for a tie.
 A team would need 12.5 points to win the Travis Cup. If there is a tie, PV will retain the Cup!
Congratulations to the 2022 Point Venture Team for winning the Travis Cup this year with a 13.5 – 10.5 victory!
Next year's matches are at Point Venture where we will try to retain the Cup for a 3-Peat!
2022 Travis Cup Results
Day 1 Four- Ball   =    Point Venture   3.5      Lago Vista  2.5
Day 1 Foursomes =    Point Venture   3         Lago Vista   3
Day 2 Singles        =    Point Venture   7          Lago Vista   5
Overall Totals       =    Point Venture   13.5    Lago Vista 10.5
2022 Team Members for Point Venture Golf Club were:
Daniel Walton, Gregg Dreyer, Jim Larson, Gene Glass, Lance Bass, Johnny Walker, Gary Little, Ken Bingham, David Barclay, Jim Barlow, Fred Pontesso & Tom Soukup.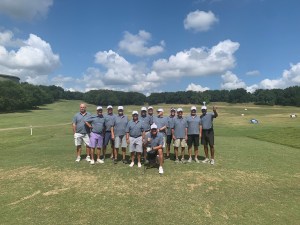 Click on the link below to see the career statistics from the first 10 Travis Cup competitions. The link will open an Excel spreadsheet in a new window for you!
Travis Cup – Career Statistics
2022 Team Members for Point Venture Golf Club were: