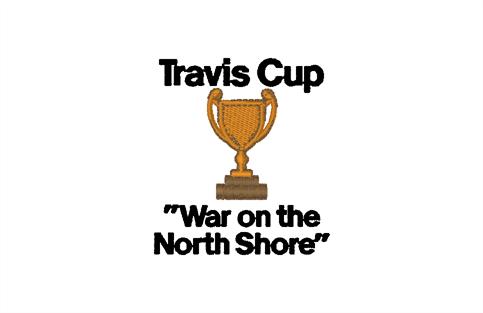 Point Venture vs. Lago Vista Golf Courses
Name: Travis Cup
Nickname: "War on the North Shore"
Captains: Point Venture – Justin Orbin Lago Vista – Chris Godwin
Goal: Develop a friendly and competitive rivalry between the 2 clubs
Dates: Friday-Sunday, October 23rd – October 25th, 2020
Location: Point Venture Golf Club (Odd Years) Lago Vista (Even Years)
Times: Fri, October  23rd   –  12:00pm – T-Times Practice Round
                                                      6:00pm-? – Captain's Dinner at Lago Grill
Sat, October 24th  –       9:00am –   T-Times – 9 Hole Matches – 1 low Net (90%)
                                         12:00pm – T-Times – 9 Hole Matches – Alt Shot (50%)
                                           2:00pm – Lunch
                                           3:00pm – Optional Scramble
Sun, October 25th –    9:00am –  T-Times – 18 Hole Individual Matches (100%)
                                        3:00pm – Awards Ceremony & Party

Cost:                               $149 per player
Cost includes:               4 Rounds of golf with cart and range ball & Captain's 
                                        dinner, 2 Team Shirts and a Team Hat, Saturday
                                        Lunch, Sunday afternoon – Trophy Presentation and 
                                       Beverages, Permanent Crystal Trophy to winning team

Eligibility:                    Open to any male over the age of 25

Team Make-Up:          Point Venture – Top 12 Men on the yearly points list
                                       Lago Vista – MGA Point Leaders, Qualifying
                                       tournament and Captain's Picks

Points:                         Each match is worth 1 point for a win and ½                                                         point for a tie. A team would need 12.5 points to win
                                     the Travis Cup. If there is a tie, PV will retain the Cup!
Congratulations to the 2019 Point Venture Team for winning the Travis Cup this year with a 16 – 8 victory! Next year's matches are at Lago Vista where we will try to retain the Cup!
2019 Travis Cup Results
 
2019 Team Members for Point Venture Golf Club were:
Lance Bass, David Foulkes, Bob Rosson, Gene Glass, Gregg Dreyer, Stan Retrum, Bill Krejci, Jim Barlow, Ken Bingham, Fred Pontesso, Charlie Knapp, and Billy Dubler.
Click on the link below to see the career statistics from the first 9 Travis Cup competitions. The link will open an Excel spreadsheet in a new window for you!