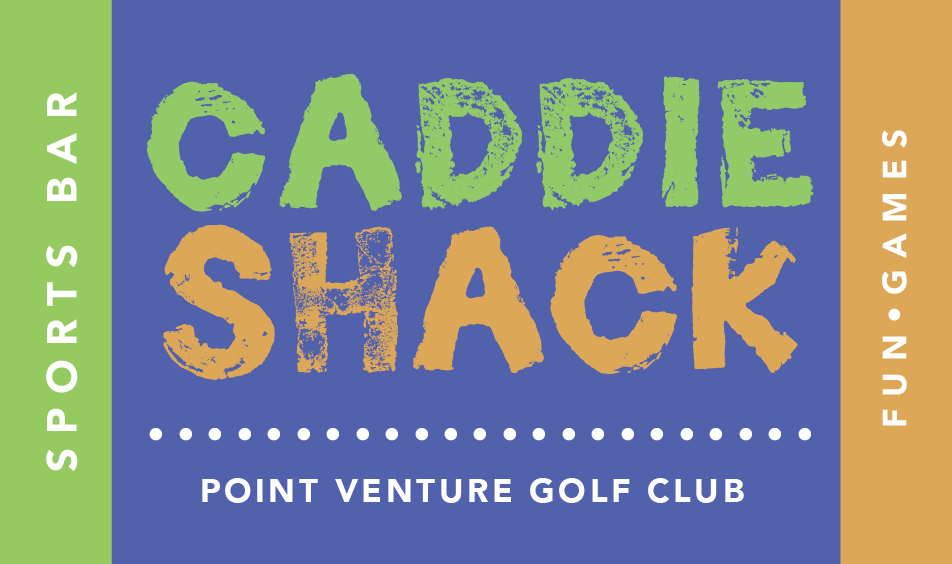 Hours of Operation:
The Caddie Shack Sports Bar is open for business from:
Monday – Saturday

= 7:00am until 11:00pm

Sunday

= 12:00pm until 9:00pm
Special Holiday Hours:
Thanksgiving Day

= Closed

Christmas Eve

= Closed

Christmas Day

= Closed
Policies & Regulations:
We have developed the following policies and regulations for all patrons to enjoy their time here at the Caddie Shack Sports Bar. Please abide by these policies at all times and we thank you in advance!
We have a Beer & Wine (BG) License. You may purchase Beer & Wine and any alcohol that is 14% or lower and take it with you anywhere on the course or to your house. You may NOT bring any Beer or Wine on to the property. You may bring any alcohol over 14% onto the property; however, you MUST purchase a $2.95 setup fee for your alcohol. Our staff is not allowed to touch your bottle, so you will have to pour your own drinks, and please take your bottle with you when you leave or throw it away if it is empty.
Our dress code requires that you wear shoes, a shirt, and shorts or pants that are at least mid thigh length.
Juniors Under 13 must be accompanied by an adult to play Pool, Shuffleboard, or Darts.
We sell alcohol from 7am – 11pm Mondays through Saturdays. Last call will be 10:45pm and all drinks will be picked up at 11:15pm.
We sell alcohol from 12pm – 9pm on Sundays. Last call will be 8:45pm and all drinks will be picked up at 9:15pm.
Please drink responsibly, if you have had too much to drink please get a safe ride home. We will make every attempt to help you find a safe ride, but it is your responsibility to find a safe ride home.
We have the right to refuse service to anyone. Our bartenders are trained to not serve you any more drinks if you appear intoxicated. Please understand they are just doing their job and it is nothing personal – we just want you to be careful and come back soon.
We are strictly a walk-up bar, we do not have servers coming to your table. All drinks must be ordered at the bar. You can order food from the food truck window and they will deliver it to your table. When you are done with your food, please throw your trash away. We will come around to pick up empty glasses, bottles, and cans. Thank you for your cooperation!